Conservatory Director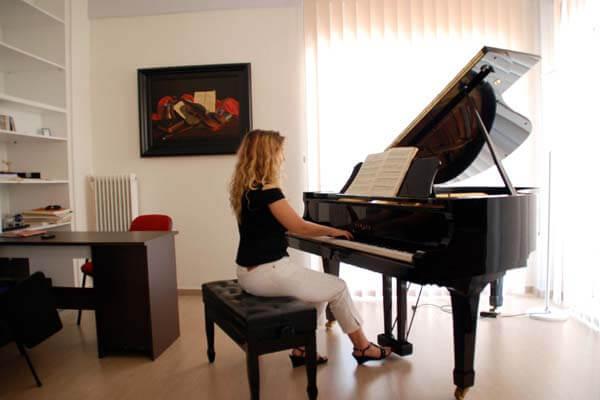 Eleni Raptaki was born in Athens. She obtained her piano diploma with the highest distinction of the Conservatory, 'Excellent, unanimously, first prize and honorary medal' and is a graduate of the 'music studies' department of the University of Athens with 'excellent'. She is also a graduate of the 'Royal College of Music' in London with a specialization in 'Master of Music in Advanced Performance'. Since 2007 she is also a student of the psychology department of the University of Athens and since 2013 she is preparing her dissertation as a doctoral candidate at the University of Athens on the subject of works by Greek composers for piano from the beginning to the middle of the 20th century.

At the age of fourteen she was awarded the 'Guildhall School of Music and Drama' in London and was awarded the 'Recital Certificate in Pianoforte'. He also excelled in several national and international piano competitions and won several scholarships: Indicatively, it is worth mentioning the scholarship of the institution 'Propontis', as well as the scholarships from the Academies of England' Royal Scottish Academy of Music and Drama 'and' Guildhall School Music and Drama 'for postgraduate studies in piano. In September 2004 she began her studies at the École Normale de Musique de Paris – Alfred Cortot 'following the resignation of the late internationally renowned professor France Clidat.

He has presented a repertoire of different eras in several recitals, group concerts, television and radio appearances. Indicatively, it is worth mentioning the concerts organized at the Athens Concert Hall in collaboration with other musicians (May 2009 and February 2010), the solo piano recitals at the Athens Concert Hall (May 2007 and 2010), live TV appearances on Greek state television, excerpts from recitals in the third program of Greek radio and other frequencies. He has also collaborated as a soloist with the Athens State Orchestra at the Athens Concert Hall (October 2008), as well as with other orchestras, while he has appeared in important halls abroad (Paris, London, Moscow, Belgium, etc.). Apart from solo, he also has a rich pedagogical career. In recent years, her research interests have focused on the relationship between psychology and music and music performance in particular, as new areas that may shed light on issues of music pedagogy.